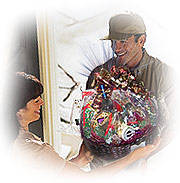 Underwraps Exquisite Gifts & Gift Baskets is based in Los Angeles, California.

All unique Underwraps creations begin via special consultation with you to ensure that you - and your recipient - will be absolutely delighted with the choice and development of an Underwraps gift basket or gift box.

Every single piece, from the outstanding presentation, to each carefully-selected item within, is then custom designed according to your unique tastes, requirements, sentiments and budget.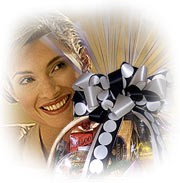 And, just as importantly, Patty and her dedicated staff watch over each basket until they know that it has been perfectly delivered for you, exactly as you require.
When you choose an Underwraps gift, you can rest assured that we will exceed your expectations from inside to out, beginning to end.
If you would like to order an Underwraps gift for someone special, phone Patty today on phone: (310) 472-9466 or fax: (310) 472-8182 or email: pruta8209@mypacks.net; and she will take care of everything for you.